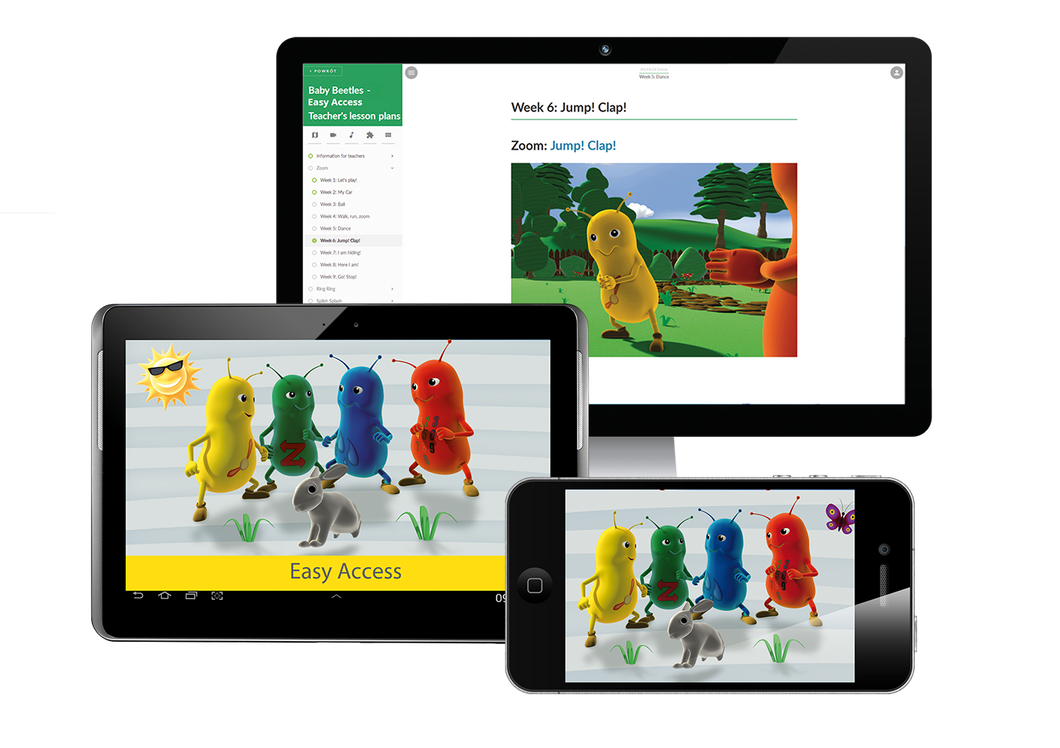 Baby Beetles – Easy Access - access code for teacher's materials
Regular price €99.90 Sale
The Easy Access programme has been developed from the very successful Standard course to support pupils and teachers in special needs situations. It can be run in parallel to the Standard or PLUS versions in inclusive preschool classes and used as a purpose-designed programme in institutions specialising in additional educational needs.
The Starter Level offers:
one-year course
weekly activity plans (choice of 10 activities to match to pupil needs)
flexible timing eg 10-15 mins per day or 45 mins twice per week
It delivers benefits for SEN pupils to:
Celebrate a rainbow of abilities in SEN children
Help brain development through contact with an additional language in early years education
Provide a delightful way to meet language-learning obligations in inclusive preschool classes.
How is it adapted for SEN pupils?
The weekly unit lesson plans offer a range of 10 activities, each with a different ability focus. The focus is on what the pupils can do, not on their disability. Each activity is marked with a coloured rainbow arch that names the ability, so it is easy to identify the right activities for each group of pupils.
This gives teachers great flexibility to choose the activities that best match the abilities of their pupils.
Touch plays a key role so the character toys and puppets in the set play an important role in helping pupils engage with the characters that present the new language content.
Pupil's Books are available but not obligatory for pupils with fine-motor challenges. There are also extra, printable activity sheets that can simple additional teaching tools to help pupils focus and connect with the characters, topic or language.
What is it?
The Easy-Access Universal Preschool Course is a fully interconnected programme of activities to introduce English to pupils with a wide variety of talents and limitations. It is achieved through an integrated syllabus of:
films
songs
puppet time
supported craft
adaptable games and other activities
What does it include?
The course offers a range of dedicated materials.
For Teachers:
Detailed lesson plans offering a range and choice of activities to choose from
Rainbow colour indicators to help carers select the right activities to match the needs of their pupil or group
Time plans and reporting tables to help teachers manage and administrate SEN - integrated lessons in English